Craig Mullen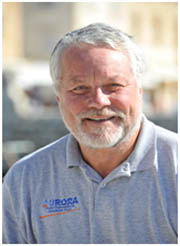 Craig Mullen has been a pioneer in exploring and working under the sea for over five decades. Following three tours with the Navy directing diving, salvage and deep-ocean recovery operations around the globe, he began what has been a lifelong passion, the exploration of world's great oceans. At Alcoa Marine, he directed the operations of the R/V Alcoa Seaprobe, the world's only all-aluminum drill-ship configured search and recovery system. The Seaprobe was capable of locating and recovering objects from 6,000 meters beneath the ocean. He directed the Seaprobe's gathering of the first recognizable photos of the civil war era wreck site of the USS Monitor and pioneered the development of deep-ocean work systems. In 1980, he co-founded Eastport International and was in the vanguard of the creation of robotic work systems that now routinely work in the great depths of the world's oceans. He directed some of the most complex ocean search and recovery operations including the Space Shuttle Challenger, Korean Airline 007, Air India, South African Airways, TWA 800 and numerous deep water shipwrecks, including the return to the SS Central America. In 2004, Craig was a co-founder of the AURORA Trust, that made cultural heritage history by discovering over 20 ancient shipwrecks in the Mediterranean Sea over a seven-year period. AURORA located both ancient and modern sites around Malta, Italy, Sicily, Spain, France and Croatia. AURORA recently completed a heritage and deep coral survey off the Florida Keys National Marine Sanctuary.
Ian Koblick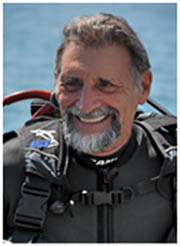 Ian Koblick has pioneered ocean exploration since the early 1970s, and for the past two decades has developed, built and operated research and environmental education facilities. As an aquanaut in Tektite I and manager and diver in Tektite II, he was one of the nation's first aquanauts. He served as Special Assistant to the Governor of the Virgin Islands for Undersea Programs and Special Advisor to the Governor of Puerto Rico. He and his partner created Jules' Undersea Lodge, the world's only undersea hotel, located at the research and education facility he created in Key Largo, FL. He is a recognized authority on undersea habitats. He designed, managed, operated and participated as an aquanaut in "La Chalupa", the most advanced undersea lab in the world. He has consulted on an international level in Panama, Vietnam, Brazil, Virgin Islands, Puerto Rico, Malta, Italy, Sicily, Croatia, Cuba and Spain. He is the co-author of the book, Living and Working in the Sea, a definitive history of saturation diving and underwater habitats. Since 2005 he has co-developed the Aurora Trust program, a marine archeology program in the Mediterranean. He has owned and operated ships up to 150 feet in the Caribbean and Mediterranean and holds an international yacht captain's license.
Dr. Buzz Aldrin
Gemini 12 / Apollo XI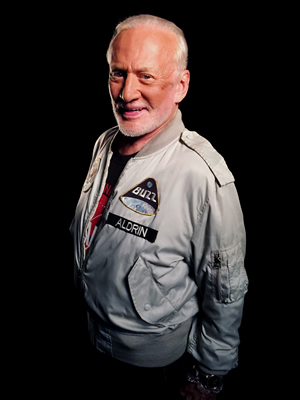 Selected by NASA in 1963 into the third group of astronauts, Aldrin was the first with a doctorate and became known as "Dr. Rendezvous." The docking and rendezvous techniques he devised for spacecraft in Earth and lunar orbit became critical to the success of the Gemini and Apollo programs, and are still used today. He also pioneered underwater training techniques, as a substitute for zero gravity flights, to simulate spacewalking.
On July 20, 1969, Buzz and Neil Armstrong made their historic Apollo 11 moonwalk, becoming the first two humans to set foot on another world. Upon returning from the moon, Buzz was decorated with the Presidential Medal of Freedom.
Since retiring from NASA and the Air Force, Col. Aldrin has remained at the forefront of efforts to ensure America's continued leadership in human space exploration. Including the Buzz Aldrin's ShareSpace Foundation, a nonprofit devoted to addressing science literacy for children by igniting their passion for science, technology, engineering, arts and math (STEAM) through delivering hands-on STEAM activities and inspirational messages.
Craig Mclean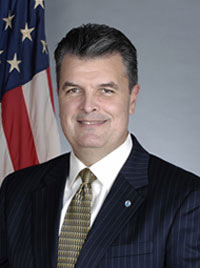 Craig McLean is the deputy for NOAA's Oceanic and Atmospheric Research programs and administration. He is responsible for daily operations and administration of NOAA's research enterprise, and the execution of NOAA programs including the Climate program, National Sea Grant, and Ocean Exploration.
He has previously served in NOAA as Executive Officer of the National Ocean Service, and was the founding Director of NOAA's Office of Ocean Exploration. McLean served in uniform for nearly 25 years, retiring from NOAA's Commissioned Corps in the grade of Captain after service at sea, underwater, and in operational, legal, and marine resource management positions. McLean served aboard hydrographic, oceanographic, and fisheries research ships and was the first commanding officer of NOAA's largest fisheries research vessel, the 224-foot Gordon Gunter.
A life long diver, he began exploring deep shipwrecks through decompression diving while in junior high school. These experiences have taken him to the Amazon River searching for freshwater dolphins, and to the RMS Titanic searching for solutions in shipwreck management.
Craig McLean is also an attorney and has practiced marine resource law for NOAA. He has been awarded the Departmental Silver and Bronze Medals, the NOAA Corps Commendation Medal, Special Achievement Medal, and recognized as the NOAA 2005 Senior Leader of the Year. He is a Fellow in the Explorers Club, Chairman of the Marine Law and Policy Committee of the Marine Technology Society, and is Chairman of the Board of the Sea-Space Symposium.
Rob Munier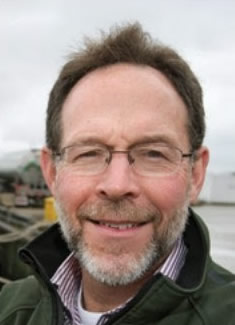 Mr. Munier is the vice president for marine facilities and operations at the Woods Hole Oceanographic Institution. His responsibilities include research vessels, shipboard scientific services, the National Deep Submergence Facility, the Center for Ocean, Seafloor and Marine Observing Systems, imaging and visualization and scientific diving. He also has executive responsibility for several major projects, including the upgrade of the Human Occupied Vehicle (HOV) Alvin and the Coastal Global Scale Nodes of the Ocean Observing Initiative (CGSN/OOI). Mr. Munier is also responsible for the support of private research vessel operations and for relationships with the oil and gas industry, including coordinating WHOI's response to the Deepwater Horizon oil spill.
Prior to joining WHOI in March 2010, Mr. Munier was Managing Director at Tyco Telecommunications where he was responsible for global solutions for undersea systems. Previously, he held the position of Managing Director for Engineering and Construction at Tyco, responsible for the delivery of marine and  Terrestrial infrastructure for undersea cable systems. Prior to joining Tyco, Mr. Munier was Vice President of the General Offshore Corporation, an international marine technical services firm and before that he was President of Wolff and Munier International.
At WHOI, Mr. Munier is an ex officio member of the corporations and directs the Access to the Sea Committee. He serves on a variety of ocean industry boards and committees that provide leadership in vessel and vehicle operations, technology development and business practices. He has published numerous papers on a variety of ocean-related topics and has presented to technical and general audiences all over the world.
Mr. Munier has an undergraduate degree in geology from Middlebury College and advanced degrees in ocean engineering and business from the University of Miami (RSMAS) and Florida Atlantic University, respectively.
He lives in Falmouth, Massachusetts.
Cosimo Malesci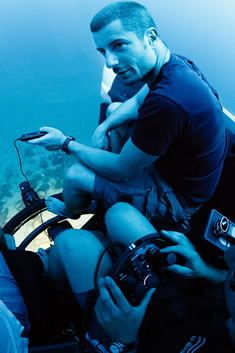 Cosimo Malesci is an Entrepreneur, Photographer, and Underwater Robotics Engineer.  He is the Co-Founder and Executive VP of Sales and Marketing at Fluidmesh Networks, a company focusing on the development of innovative wireless solutions for mission critical communication.  The company has offices in Chicago, New York, Lima, Pisa, Milano, London, Paris, and Taipei. Cosimo responsibilities include managing sales and marketing for the organization as well as driving growth in new verticals.
Cosimo is also a professional photographer focusing on adventure, travel, and underwater stories. His work has been features on numerous publications including National Geographic Travel, Collezioni Magazine, Runway Magazine, and FashionStock TV.
Cosimo holds a Bachelor and a Master of Science in Ocean Engineering from MIT. While at MIT, his worked focused on underwater robotics and sea-keeping of multihulls at sea.  At age 12 he completed his Open Water certification in his beloved Elba Island and his passion for the Ocean has taken him around the world.
He lives between New York City and Florence, Italy.
Aurora Trust Foundation thanks the Following Supporters